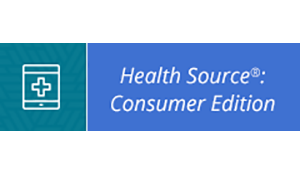 Health Source: Consumer Edition is a rich collection of consumer health information covering a wide variety of subjects, including information on specific diseases as well as overall health topics. Subjects include fitness, nutrition, diabetes, aging, women's health, children's health and more.
Health Source: Consumer Edition provides access to nearly 30 full-text, non-open access consumer health magazines and 100 full-text reference books. It also includes searchable full text for current health pamphlets.
Additionally, with Health Source: Consumer Edition, users have access to Clinical Reference Systems reports, in both English and Spanish, and Merriam-Webster's Medical Desk Dictionary.
*Information provided in this database should not be viewed as a means for self-diagnosis or a substitute for professional medical advice, diagnosis, or treatment.